The Colors and Absolute Color Accuracy of the display should not vary as the on-screen image content changes. In Figure 4 below we examine and measure the Shifts in Color with changing image content from Low Average Picture Level APL to 50% Average Picture Level APL.
Figures 4a-b show the variation in the Absolute Color Accuracy between Low APL and 50% APL for the DCI-P3 and sRGB / Rec.709 Gamuts. The Color Shifts with APL are small, with Average Shifts of just 0.3 JNCD and the Largest Color Shifts of just 0.6 JNCD for the Gamuts. The White Point Color Shifts with APL for both Gamuts are very small at 0.3 to 0.4 JNCD.
See the Color Shifts with APL section of the main article for the measurements and details.
See the Absolute Color Accuracy page for an in-depth discussion and analysis of Color Accuracy and definition of Just Noticeable Color Differences JNCD. Any Display Color Error less than 3 JNCD on a display is not visually noticeable and appears perfectly accurate to the eye. A 3 JNCD Color Shift is marked in the Figures below.
The Color Shifts are very small so the Low APL Red data points are almost entirely covered over by the 50% APL Blue data points.
Figure 4a.   DCI-P3 Color Accuracy Shifts with Average Picture Level APL
The Average Color Shift from Low APL to 50% APL is 0.3 JNCD and the Largest is 0.6 JNCD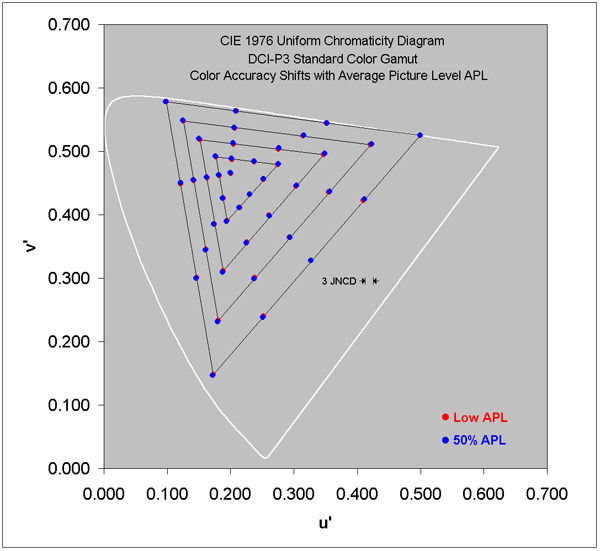 Figure 4b.   sRGB / Rec.709 Color Accuracy Shifts with Average Picture Level APL
The Average Color Shift from Low APL to 50% APL is 0.3 JNCD and the Largest is 0.6 JNCD